Submitted by maba on 24 August 2011 - 6:49pm
Posted in
Malaysia - Sri Lanka 65:30
Malaysia earned the third win at the Asia Championship in Japan. They toppled Sri Lanka to improve at 3-1 record in Level II standings. Siew Teng Ang (174-87) scored 11 points to pace the winners. Sri Lanka suffered the fourth straight defeat at the tournament.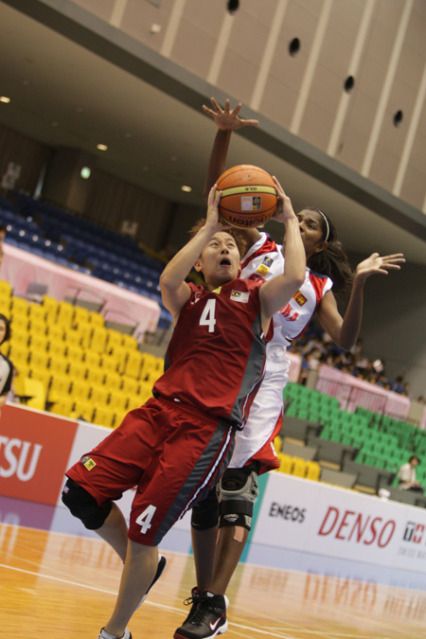 Malaysia set the tone early. They outgunned Sri Lanka 20:5 in the starting frame. Malaysia stayed in charge throughout the second frame. They established a 37:10 halftime lead. Sri Lanka slowed down their opponents in the third quarter but still could not get any closer. Malaysia entered the fourth quarter up by 30 points. Malaysia never looked back afterwards cruising to the victory at the end. Beng Fong Goh (165-G-82) accounted for 10 points, while Shin Min Yong (174-F-87) added 9 points for Malaysia.Solange Gunawijeya (91) answered with 9 points. Inoka Juwan Pedige (82) finished with 8 points in the loss.


Malaysia: Siew Teng Ang 11, Beng Fong Goh 10, Shin Min Yong 9
Sri Lanka: Solange Gunawijeya 9, Inoka Juwan Pedige 8
Qualification Game race goes to the wire in Level II
Who said things can't get interesting in Level II of the FIBA Asia Championship for Women as a three-horse race emerged for the two Qualification Games slots.
The top teams of Level II will play off against the two bottom ranked teams from Level I in single game eliminations with the winners of these games playing the elite Level I in the 2013 FIBA Asia Championship for Women.
Indonesia continued their winning run beating Uzbekistan 68-65 to keep their hopes of a place in the Qualification play-offs alive, but will depend heavily on Uzbekistan to beat Malaysia on Thursday.
Malaysia, on their part bounced back into contention to play the Qualification play-offs for the third Championship in a row with their 65-30 win against Sri Lanka and Kazakhstan strengthened their chances beating Singapore 89-52.
As things stand, Indonesia are tied with Malaysia and Kazakhstan for the top place in the Level II standings – but behind both of them in the triangular tie-breaker.
Considering Kazakhstan are expected to beat the winless Sri Lanka and Indonesia themselves counting on winning against Singapore, only an Uzbek win over Malaysia will leave Indonesia and Kazakhstan as clear top two teams.
If Malaysia win against Uzbekistan the three-way tie would remain and Indonesia would lose out.
"We'll focus on the job on our hand, to win against Singapore," said Indonesia coach Bill McCammon.
"We'd like to control things that we can and hope for the best. We have already exceeded a lot of expectations here. Of course playing the play-offs will be a bonus," he said settling down to scout Lebanon in the game against Korea.
"We are aware of the danger of losing tomorrow," said Malaysia coach Tan See Wah.
"The girls know they have to raise their game to match their reputation. It won't be easy against a stronger team like Uzbekistan. But we'll play hard too," he said.
Kazakhstan, who look the best placed to the play the Qualification Games, were however circumspect about their prospects,coach Tatyana Kondius sufficed it to say: "Let's win first tomorrow."