Submitted by maba on 21 July 2011 - 2:49pm
Posted in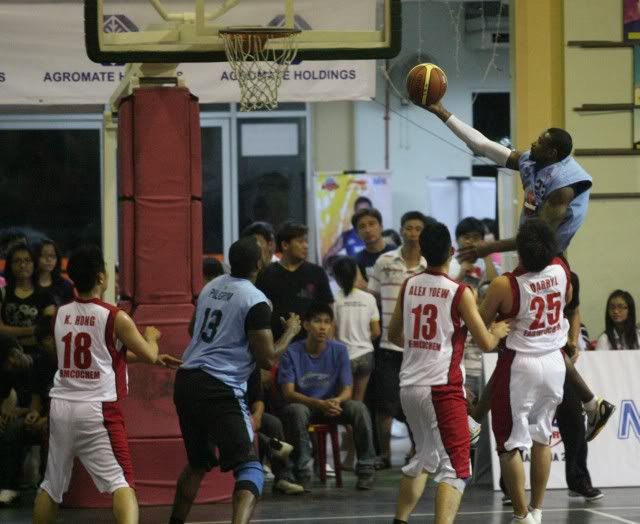 The third and final regular season circuit of NBL 2011 in Banting, Selangor was about a flip of script.
Both powerhouses Westports KL Dragons and Perak Farmcochem had a 1-2 losing record. In contrast, underdogs Miri Fire Horses and Singapore Siglap enjoyed a 2-1 week.
The defending champion Westports KL Dragons were looking good on their first game of the circuit, beating Miri Fire Horses 75 – 52, but quickly got into a slump of 2 game losing streak. They were defeated by Perak Farmcochem 65 – 76 and bowed to Singapore Siglap 78 – 90 in their final preliminary game. With these loses they not only forced to settle with a 5-4 record, but also surrendered the tie breaker and the preliminary round title to Perak Farmcochem by sitting at the wrong end of a 2-1 regular season series.
Perak Farmcochem started their final circuit with a tough 71-74 loss to the Singapore Siglap, but manages to bounce back in the second game by beating the Dragons and held the upper hand for the regular season champ. With Dragons felt short in their final game, Perak also leisurely walk through their final game by losing to Miri Fire Horses 64 – 86. Perak was tied with the Dragons on a 5-4 record and edged the Dragons for regular season champ with 2-1 head to head result.
Miri Fire Horses bounced back from a 52-75 loss to the Dragons and concluded their regular season with a wining streak. Anthony Johnson was fabulous in their 104-88 win over the Singapore Siglap, notched a NBL record 47 points along with 23 rebounds. He continued his strong play in a 86 – 64 victory over Perak Farmcochem with 22 & 18.
Singapore Siglap enjoyed their second consecutive winning week with victories over the power houses – Perak Farmcochem (74-71) and the Westports KL Dragons (90 - 78). After a winless first circuit, they are the hottest team thereafter with a 4-2 record. But that isn't enough to get them out of the bottom of the chart as they were beaten by the Fire Horses behind Anthony Johnson's historical 47 points. They are tied with the Fire Horses with a 4-5 record and on the wrong end of a 2-1 regular season series versus the Fire Horses.
The playoffs starts at 22/5/2011 (Friday), with Perak Farmcochem meeting up with Singapore Siglap and Westports KL Dragons dueling with the Miri Fire Horses.